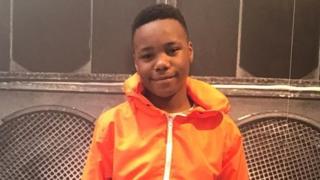 A man has been found guilty of murdering a 14-year-old boy in a "violent and frenzied" knife attack.
Ayoub Majdouline, 19, was convicted after Jaden Moodie was knocked off a moped and repeatedly stabbed in Bickley Road, Leyton, in January.
Jurors heard their DNA was found on a knife and yellow washing up gloves which had been thrown into a drain.
Majdouline, from Wembley, north London, is due to be sentenced on 18 December.
A jury of eight men and four women at the Old Bailey also found Majdouline guilty of having an offensive weapon.
Jaden was the youngest murder victim in London this year.
Majdouline was one of five men linked to the stabbing who drove around east London in a stolen Mercedes looking for members of a rival gang to attack on the night of 8 January, the court heard.
The group, linked to drug gang the Mali Boys, had covered their faces and two of them, including Majdouline, wore yellow rubber gloves to avoid being identified, the jury was told.
Once they spotted Jaden, the Mercedes rammed into the teenager and knocked him off the moped before some of the gang members got out of the car and stabbed him while he lay on the ground.
Jaden, who was dealing drugs for rival gang the Beaumont Crew, suffered nine stab wounds and bled to death in the road as the attackers ran back to the car and sped off, the court heard.
Prosecutor Oliver Glasgow QC said: "Fourteen seconds was all it took – Jaden did not stand a chance."
He told jurors the "cowardly" attack was part of a "shocking wave of gang crime" across London that attracted ever younger people.
Jurors heard the day before the murder, Majdouline was caught on CCTV at a Travelodge hotel in Walthamstow with the same distinctive Nike Air Max trainers he was wearing during the knife attack on Jaden.
Burnt clothes, including the trainers, were later found in a churchyard not far from the murder scene.
Majdouline admitted dealing drugs for the Mali Boys but denied being present during the fatal attack.
After a troubled up-bringing, the defendant turned to county lines dealing "to survive", the court was told.
He had been caught with drugs and carrying knives, but despite serving time behind bars, went straight back to dealing.
The jury heard he was identified by the National Crime Agency in 2018 as a victim of "modern slavery", amid concerns of exploitation by older youths.
Jaden had also been in trouble with police since he was 13.
He was handed a youth conditional caution in March last year after police seized an air-powered pistol, Rambo knife and cannabis during an altercation in Nottingham.
According to agreed facts read to the court, his mother moved her family to east London due to "ongoing issues" with youths.
Jaden's family said "yes" and appeared emotional in court as Majdouline was convicted.
Following the verdict, Det Ch Insp Dave Hillier, of the Met Police, described it as a "cold-blooded" murder.
He said Majdouline and the other attackers went out with "the clear intention of causing, at the very least, serious harm to someone as they prowled the streets of Leyton looking for their target".
Jaden's attackers "tried to destroy any evidence, but they failed, and officers were soon able to link Majdouline to Jaden's murder", he said.
He added: "However, our work is not over yet. We know that there were five people in that black Mercedes and we will continue to work until all those responsible for Jaden's murder are brought to justice."
residential pest control services teddington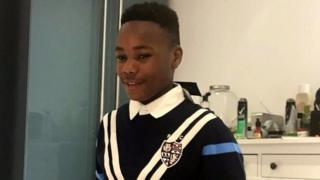 A man accused of murdering a 14-year-old boy sold drugs for a London gang so he could "survive", and would carry a knife for "safety", a court has heard.
Jaden Moodie was knocked off a moped and stabbed to death in Leyton, north-east London, on 8 January.
Ayoub Majdouline, who is accused of being one of five men who carried out the attack, told the Old Bailey he had sold drugs since he was 16 years old.
The 19-year-old, from Wembley, denies murder and possession of a knife.
The court has been told Jaden was selling drugs for the Beaumont Crew, also known as Let's Get Rich, when he was attacked by a group of men who were looking for a rival gang member to attack.
Jurors heard Mr Majdouline had a troubled upbringing in Leyton and his parents had split up when he was seven.
While living with his mother, he was abused by his stepfather so went to live with his aunt, the court was told.
However, that relationship broke down and he ended up in foster care. His father also died in 2015.
The court was told he had been identified as a victim of modern slavery by the National Crime Agency (NCA) over concerns he was being exploited by older youths.
Giving evidence, Mr Majdouline said he sold drugs "for and with" the Mali Boys gang, including as part of county lines dealing in Basingstoke, Ipswich and Andover.
He told jurors he was previously jailed for drug and knife offences but went straight back to dealing "to survive"
"At the time I did not feel like I was being supported by social services and I never lived by myself before," he said.
He added that he got "confused" sorting out jobseekers' allowance when he turned 18 and dealing had been "the only way I knew how to make money".
Explaining why he carried a knife, Mr Majdouline said he had been "sliced" on one occasion in Basingstoke so carried a blade "for my own safety".
The trial continues.